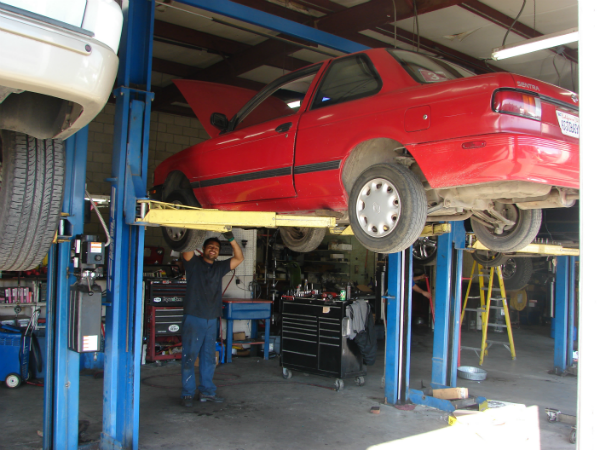 Getting auto repair services in Hanford, CA from a trusted shop is important, not only for your car's function but also for its longevity. AAA Sandoval Transmissions is committed to making sure any repairs are done right and that every time your vehicle leaves our shop, it's ready for the road.
Whether you're dealing with unanticipated auto trouble or you're finally getting around to fixing a few things that have been piling up in Hanford, Kings County, Armona, Visalia, or San Joaquin Valley, CA, count on us for great workmanship and quality auto parts for all of your auto repair services.
Transmission work:
We're well-known for being a trusted transmission repair shop in Hanford, CA, and we're always eager to prove it. If you've got transmission troubles, come see us and we'll make them disappear.
Air conditioning repair:
Not getting the cool forced air you need in your cabin? We can recharge your refrigerant, repair your blower and handle anything else that may be faulty within your climate control system.
Diagnostic services:
If dash lights keep popping on and off or you feel like there's a problem with your car but aren't sure what it is, let us take a look. Using state-of-the-art diagnostic tools, we take readings of your car's onboard computer to figure out what systems may need a little bit of work to run right. From auto electrical repair to engines, we've got you covered.
Radiator repair:
Without regular radiator repair, your engine is bound to take abuse and overheat. We'll repair your leaky or clogged radiator, to make sure your engine cooling capabilities are operating efficiently.
Axle repair:
Problems with CV joints or your differential? We've got the solution. Our shop is equipped to handle axle repairs and will make sure your vehicle runs smoothly as soon as it rolls off our lot.
Brake repair:
Come to us for complete brake repair, which includes new pads and shoes, as well as repairs for damaged calipers and rotors. We can also perform master cylinder service and handle leaky brake lines.
Contact Us
At AAA Sandoval Transmissions, we strive to do right by your car. Whatever repairs it needs, our shop is ready to deliver them and ensure you're able to drive safely. We'll make sure you're getting the best value for your car now and over the long-term. Schedule an auto repair or tune-up services appointment at 559-587-2525.